Atlas of Bird Migration by Jonathan Elphick
Every spring I am amazed at the return of birds that have flown south for the winter. The distances they cover and the obstacles they overcome are enormous. How do they find their way? How long does it take them to fly the entire journey? How do they know it is time to return?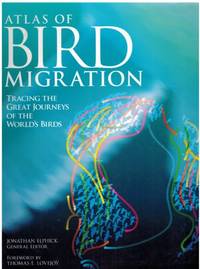 Published in 2007, Atlas of Bird Migration is a full-colour guide to the mysteries of bird migration that features all of the latest science, including the results of advanced satellite tracking methods. It contains an illustrated introduction that explains the background to bird migration: flight techniques, navigation, feeding, timing, staging posts and biology. Computer-generated maps trace the migration routes of more than one hundred species. Information on size, weight and wingspan, journey, distance and timing is provided. The routes of 500 migrant bird species are cataloged.
The essays in this book focus on environmental threats to migratory species and conservation initiatives worldwide. It also includes bird watching tips about the best times and places to observe migrants.
This superb publication is a great resource for students. It is also an excellent read for serious birders as well as those, such as myself, who just want to know.
Review by Christine